Herbal Offerings
FAMILIAR products are made by hand, seasonally, in small limited edition batches.
Please visit a retailer for current offerings, or follow our instagram for special sales, events, and offers.
Stockists in the Milwaukee Area include:
BEARD - 1812 E North Ave
URSA - 2534 S Kinnickinnic Ave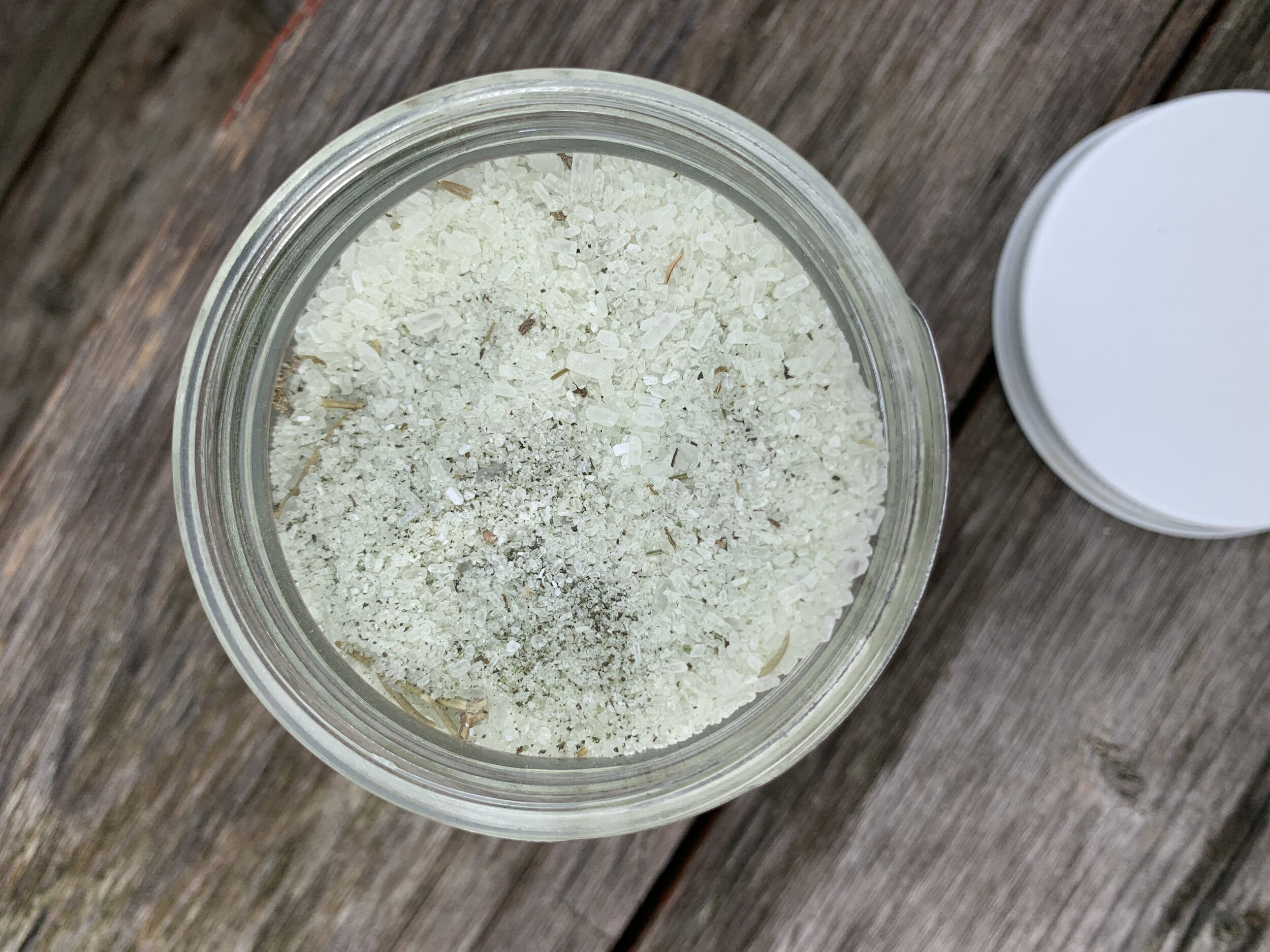 Forest Bathing
I wanted to create a bath for those of us who find a walk among the pines extremely healing, but maybe don't make it out to the forest as often as we would like. The word friluftsliv is a norwegian expression literally translating to 'open air living', or getting out into the wild-free in all kinds of weather and at all times of the year. This bath brings the forest to your bathing ritual, with dried and pulverised white pine needle I wildcrafted myself, combined with other healing plants and oils to create a fragrant and rejuvenating respite. Enclosed in glass with a metal lid and infused with healing reiki, always.
Find at BEARD, Milwaukee WI.
Herbal dream pillows
indigo- hand dyed 100% cotton cloth, knotted with intention, sewn by hand; stuffed with rice, mugwort and lavender. Heat in the microwave to wrap around a stiff neck; store in the freezer to soothe a tension headache; place on your pillow or over your eyes before sleeping to enhance visions and dreams. Find at URSA, Milwaukee WI.
New / Full Moon Bathing Salt
To bath in herbs and oils is a ritual as old as time. A moment to oneself to think clearly is precious. A moment to oneself, on the occasional of the moon, in a fragrant bath to seal intention and conjure clarity is a lovely self care practice.
New Moon bathing salts ask, What are you shedding this month?
Full Moon Bathing salts ask, What are you drawing in?
Enclosed in glass with metal lid, each blend corresponds to their own time of the month, utilizing organic herbs and oils, energy work, earth and sea salts for your ritual bathing pleasure. Use one, or both, during times of duress where healing is needed. Best used before bed. Record your dreams.
Find at URSA, Milwaukee WI.
Sub Rosa
I was inspired to create this bath while looking at beautiful flowers hung to dry. The latin phrase sub-rosa, meaning "under the roses", is used in english to describe a meeting in secret- and comes from the idea that anything of value should be discussed in the presence of a rose. In Greek lore, Aphrodite gave the rose to Eros, who gave it to Harpocrates, the God of Silence, symbolizing the necessity for secrecy in certain amorous affairs- we don't kiss and tell.
But. In our day and age, hardly anyone keeps secrets anymore. Social media, cell phone usage and the need to be constantly plugged in discourages the idea that anyone should have anything just for themselves. My hope is that Sub Rosa will remind you to do that meaningful work of pausing to care for yourself once in a while. Use Sub Rosa during those times you need to nurture your heart. Be quiet, for a little while, with the roses.
Enclosed in glass with a metal lid, containing pulverised flowers and flower oils such as rose, lavender & geranium, milk powder and ground organic gluten-free oats to soothe and nourish the skin, and infused with Reiki healing.
Find at URSA, Milwaukee WI.
Herbal Tattoo Balm
As a tattooed person, I wanted to create a healing balm to use as an alternative to the usual petroleum based plastic packaged ointments needed in the beginning stages of tattoo aftercare. This salve is fragrance-free and made from calendula infused olive oil and beeswax, and can be used for both new and old tattoos to brighten and preserve beautiful ink!
Find it at BEARD, Milwaukee WI.
Witches' Salt
A secret, magical blend of herbs and salts to use around the home and hearth when boundaries and protection from external negative influence is necessary. Sprinkle as needed, before sweeping. Not for ingesting.
Find it at URSA, Milwaukee WI.
White Pine Salve
White pine is a sacred tree medicine, even simply walking through a white pine forest was once thought to heal a body of its ailments. Excellent for chapped and dry skin, or as a chest rub during cold and flu. I slow infused white pine needles and sap in organic raw olive oil, which I then mellowed with rosemary, frankincense, mint and eucalyptus oils and raw beeswax. I seal every jar with healing reiki energy. The result is a light forest scent with notes of peppermint. Refreshing, soothing and sinus opening. I have also used on my temples for headache relief!
Find it at BEARD, Milwaukee WI.
Midsummer's Garden
Facial steam is an easy, pleasant, safe and effective way to care for problematic skin, by increasing circulation to the face to relieve dull skin and clogged pores, correcting pathologies over time. My steams combine calming and medicinal organic herbs known for their skin-healing properties and antibacterial/antimicrobial action. How to use: Cleanse your face. Add a heaping spoonful of steam blend to a bowl of filtered and boiled water, tent a towel over your head and steam for 5-10 minutes, taking care that it isn't too hot. Rinse with cool water, and follow with toner and moisturizing oil such as jojoba. Packaged in glass with a metal lid, and sealed with reiki.
Find at URSA, Milwaukee WI.
Devotion Ritual
A luxurious massage and body oil infused with beautiful rose & damiana herb, which is well known for its aphrodisiac properties as well as boosting and maintaining mental and physical stamina. Notes of patchouli and geranium, and sealed with reiki always. Apply after bathing, massaging gently towards the heart.
Find it at URSA, Milwaukee WI.
Lip Pot
A luscious lip balm, made of organic olive oil infused with rose petal and rosehip, rose flower essence, plant butters and raw beeswax. Enclosed in a heavy amber-glass 1oz pot, inside a black velvet drawstring bag.
Find at URSA, Milwaukee WI.